CARRARA, THE MARBLE AND THE COLONNATA LARD
Lardo di Colonnata (Pork's aged back-fat) is an IGP (Indication of Geographical Protection) product and has been included by Slow Food in the Ark of Taste section. 
In the last years, many people have tasted and appreciated the Lardo di Colonnata, but not as many know that Colonnata is located in the one of the Carrara marble valleys. Before lard was "discovered" by Slow Food, it has always been the traditional food of the quarrymen: easy to store, to transport and energetic for those who work all year round in the open air.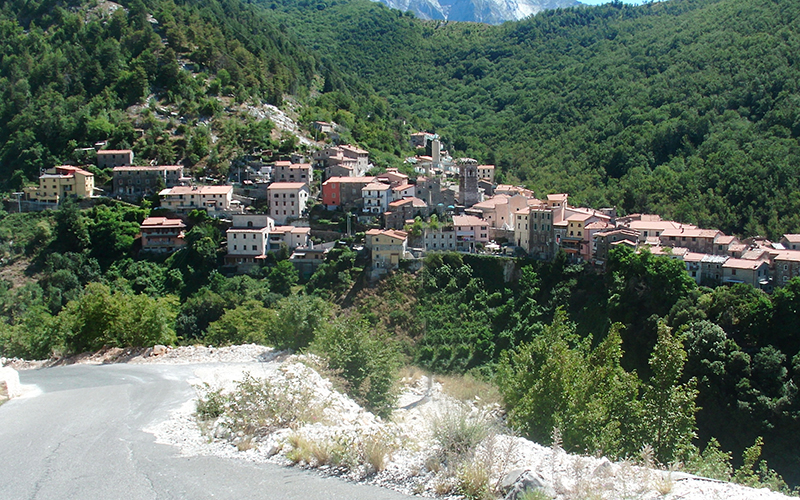 Colonnata is located about 500 meters above sea level and is the oldest village of quarrymen whose origins date back to the Roman Age. With the fall of the Roman Empire, the extraction of marble stopped and the inhabitants of those valleys dedicated themselves to agricultural activities.
Tradition attributes to the Longobards (VI-VII year A.D.) the teaching to the locals of the methods of aging pork fat and, the amazing thing is that in the last 1500 years nothing or almost nothing has changed in the methods of production and maturing of the pork's back-fat.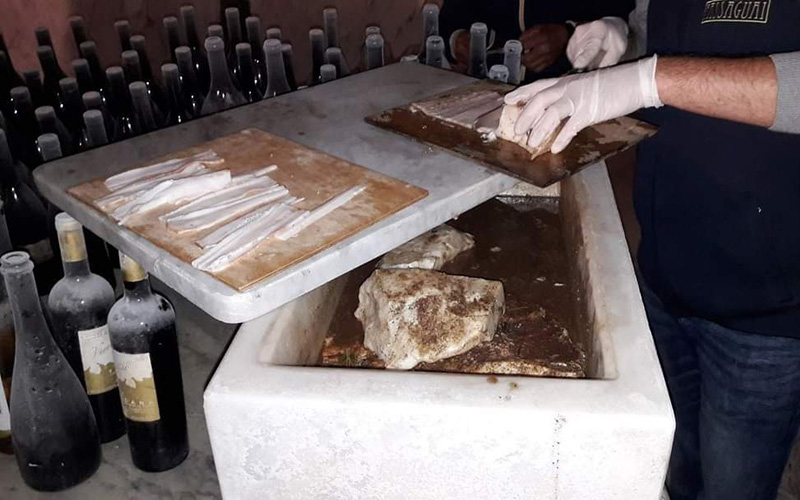 Foremost let's clarify the matter of pigs, you will notice that arriving in Colonnata there are no farms, in fact what makes this cold cut so different and unique is not the pig, in fact pork fat is purchased in Emilia, but three factors: marble, the mix of sea salt, herbs and spices, and finally the air of Colonnata.
Marble is fundamental for the maturing of Lardo di Colonnata, in fact, tanks of a particular marble are still used today that serve as a "natural refrigerator".
Mix of sea salt, herbs and spices. The pieces of fresh lard are placed in marble basins alternating with layers of sea salt, and a mixture of black pepper, rosemary, garlic (common to all the producers), then some f them choose to put  oregano, cinnamon, star anise, laurel, nutmeg to customize the final taste of the product.
The air of Colonnata. Once the marble basin are filled with fresh lard and the mixture of salt-herbs-spices, cover and wait. After 20-30 days, the salt begins to extract the water content in the fresh pork's fat, creating a brine in which the pork's fat remains to mature for at least six months as regulated by the IGP Lardo di Colonnata. The beauty is that this brine is formed spontaneously only in Colonnata (and surroundings) due to the particular microclimate that this valley enjoys.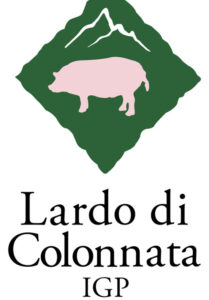 Ah, I forgot about that! If you come to Colonnata you will always be welcome, but if you would like to buy lard at home, always check that it has displayed the IGP mark.