TOURIST GUIDES, GUIDED VISITS FOR GROUPS TO THE QUARRIES LOCATED IN THE FANTISCRITTI VALLEY FOLLOWED BY THE VISIT A SCULPTURE WORKSHOP.
ACCESSIBLE ROUTE WITH COACHES UP TO 12.50 Meters LONG
TOURIST GUIDE, GUIDED VISIT TO THE MARBLE CAVES LOCATED IN THE FANTISCRITTI VALLEY THEN VISIT A SCULPTURE WORKSHOP IN ORDER TO SEE THE MARBLE ARTISANS AT WORK.
Touristic itinerary, excursion to the marble quarries of Carrara, discover unique panoramas, learn more about the excavation of marble by visiting the Quarry Museum and watch the marble artisans at work in their workshops.
Itinerary
Meet the tourist guide and depart to the world's largest marble quarries, during the journey your local guide provides relevant information about the history, the economy and the geology of the territory.
Arrival in Fantiscritti and leave the coach in the parking lot, then proceed to visit a private open-air exhibition of tools and equipment (entrance fee) really helpful to understand the history of marble excavation and transportation throughout the centuries, since the Romans until now.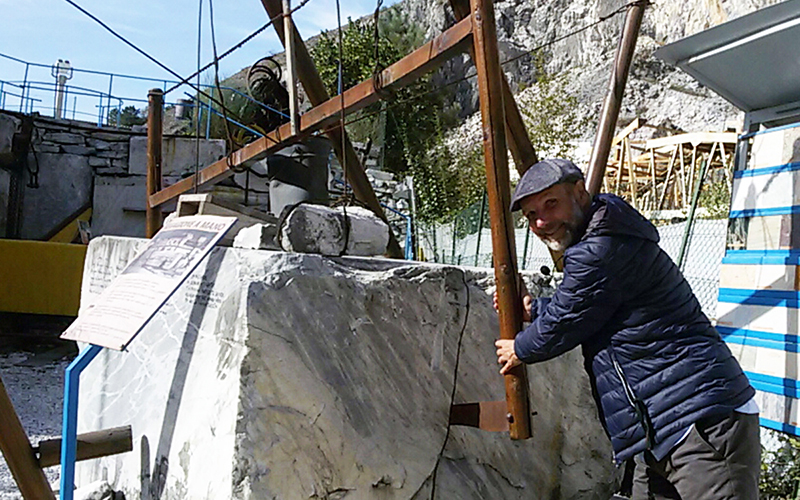 Free time for visiting the marble souvenir shops follows.
Depart by coach to one of the several workshops of sculpture where, watching the sculptors at work, learn more about tools and methods still used for the making of marble works of art. (entrance fee).
SOME IDEAS TO ENRICH YOUR PROGRAM
Organization and invoicing of V&D Viaggi e Dintorni