TOURIST GUIDES, GUIDED VISITS OF THE COLONNATA MARBLE VALLEY, GUIDED VISIT OF A MARBLE WORKSHOP
SUITABLE FOR BUSES OF ALL SIZES
GUIDED VISIT, TOURIST GUIDE TO DISCOVER THE CARRARA MARBLE MINES AND WATCH THE ARTISANS AT WORK IN THE SCULPTURE WORKSHOPS.
Private excursion to Carrara marble mines and to a workshop of art. Learn more about the geology of marble, the methods of excavation and transportation of marble throughout 2000 years and the making of a marble statue.
Itinerary
Meet the tour guide and depart to the world's largest marble quarries, during the journey your local guide provides relevant information about the history, the economy and the geology of the territory.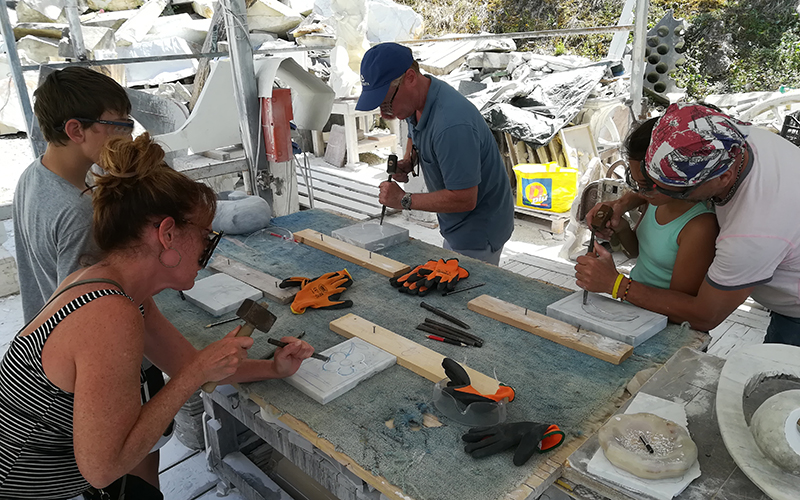 Arrival at the "cava Romana" (Roman quarry) archaeological site where your tour guide will explain how the ancient Romans were detaching marble blocks from the mountains. At the same time enjoy the panorama of working quarries surrounding the area.
Free time for visiting the marble souvenir shops follows.
Depart by coach to one of the sculpture studios active in Carrara area. Here, watching the artists at work, know more about tools and methods still used for the making of marble works of art. Admission fee.
SOME IDEAS TO ENRICH YOUR PROGRAM
Organization and invoicing of V&D Viaggi e Dintorni