CARRARA UNESCO CREATIVE CITY FOR MARBLE CRAFTS. GUIDED TOURS TO THE SCULPTURE WORKSHOPS.
A project strongly wanted by the local Administration, in 2018 it found its fulfillment: Carrara was included in the list of Creative Cities drawn up by UNESCO.
This is a worldwide project born in 2004 that rewards cities that "by placing creativity and cultural industries at the center of their development plans at the local level and actively cooperating at an international level";  the fields of human creativity range from music, to art, to gastronomy, to literature. Carrara has been included in the "handicraft and popular art" section precisely to reward the strong and rooted tradition in the artisan production of marble.
To keep this tradition alive we have the Marble High School, a vocational institute focused on teaching of the marble craftsmanship,  and the Academy of Fine Arts founded in 1769 and which today hosts students from all over the world.
So not only the statuary production but also the craftsmanship linked to the creation of floors, walls, kitchen tops, fireplaces, everyday objects for the home (kitchen, bathroom, living room). Here you will find some photos related to the topic.
The part, in my view, the most interesting to the visitor is the one concerning the guided visits to the sculpture workshops, they represent the natural completion of a half or full day of exploration in the World of Marble. Entering a marble workshop is a unique experience, which allows you to answer a fundamental question: "but how is it made?".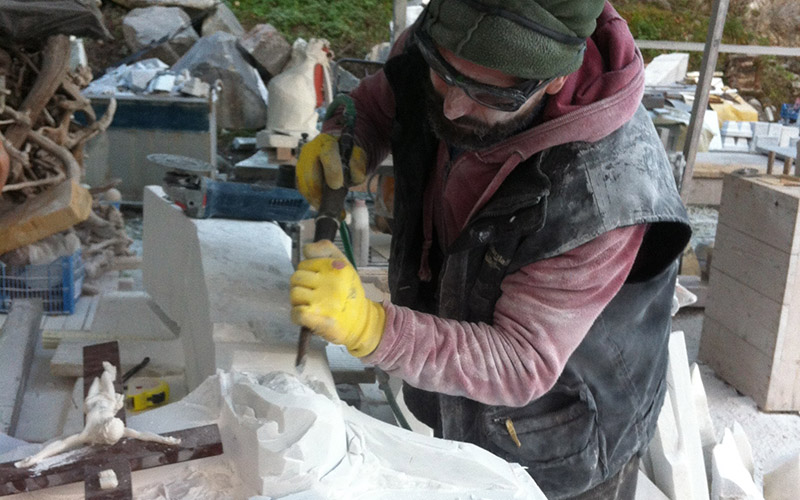 What are the methods, tools and techniques used today and once to create a statue from a piece of rough marble? Or rather, as Michelangelo said, "… freeing the figure imprisoned in it from the marble …"
Marble artisans are often available to tell their experiences, to show reproduction techniques from the model to the marble statue. It is therefore possible to organize guided visits with sculpting demonstration, or something more engaging such as authentic sculpting experiences. This is how they work: a piece of marble, mallet, chisel are provided and, with the help of the sculptor, make your small artifact in marble. It is fun, involving and very interesting for adults and children!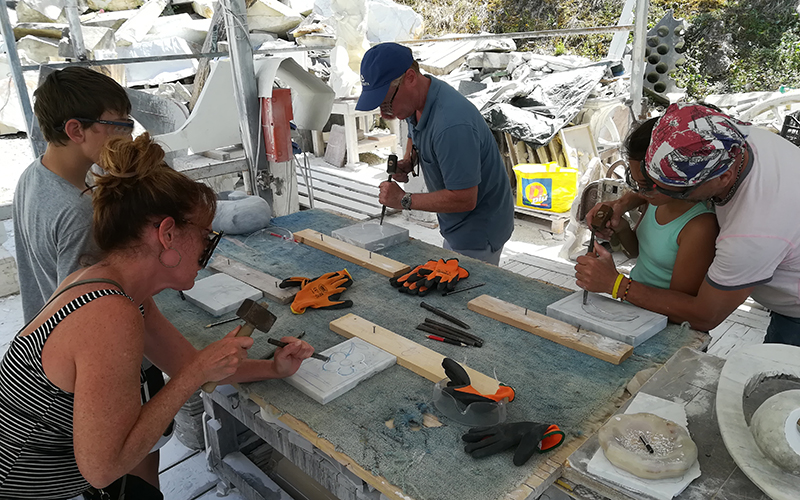 Depending on the size of your group, or according to your interests and the time available, we organize itineraries with a tour guide to the marble quarries which we will complete with a guided tour of a sculpture workshop. Here you will find the list of our tourist itineraries in the world of marble for groups and individuals.