CARRARA HIKING TRAILS
DISCOVER THE REGION WALKING ON THE QUARRYMEN PATHS
This section is dedicated to hiking passionate people, those who love the slow walking along the trails for getting immersed in the nature and  take their time to watch, to learn and getting in touch with the locals.
The Carrara territory stretches from the sandy Tyrrhenian beaches to the top of the Apuan Alps (aka The Marble Mountains) and it is crossed by several paths east-west and north-south oriented. Probably the most famous one is the Via Francigena, in length and fame comparable to the Camino di Santiago in Spain. The Francigena trail dates back to the Middle Ages and was walked by million travelers: merchants, pilgrims, soldiers, popes and bishops, it crosses our territory in direction west-east, one branch passes closer to the sea another one through Carrara historical center. 
The Francigena rail merges even into a network of paths that wind all around Carrara, its foothills and the Marble Mountains, the so-called Aronte's Trail. It is a route divided in five stages that permits to explore in depth the green hills surround Carrara, rich of lush vegetation, vineyards and olive groves but in particular permits to walk through the marble mountains along what were the ancient footpaths walked by the quarrymen to go to work in the marble mines.
The scenarios are simply breathtaking, nothing can describe what you feel when you face these huge marble faces, you climb those steep slopes, crossing little creeks or just resting in one of the villages like Grafgnana, Sorgnano, Colonnata, Codena the so-called villages of marble.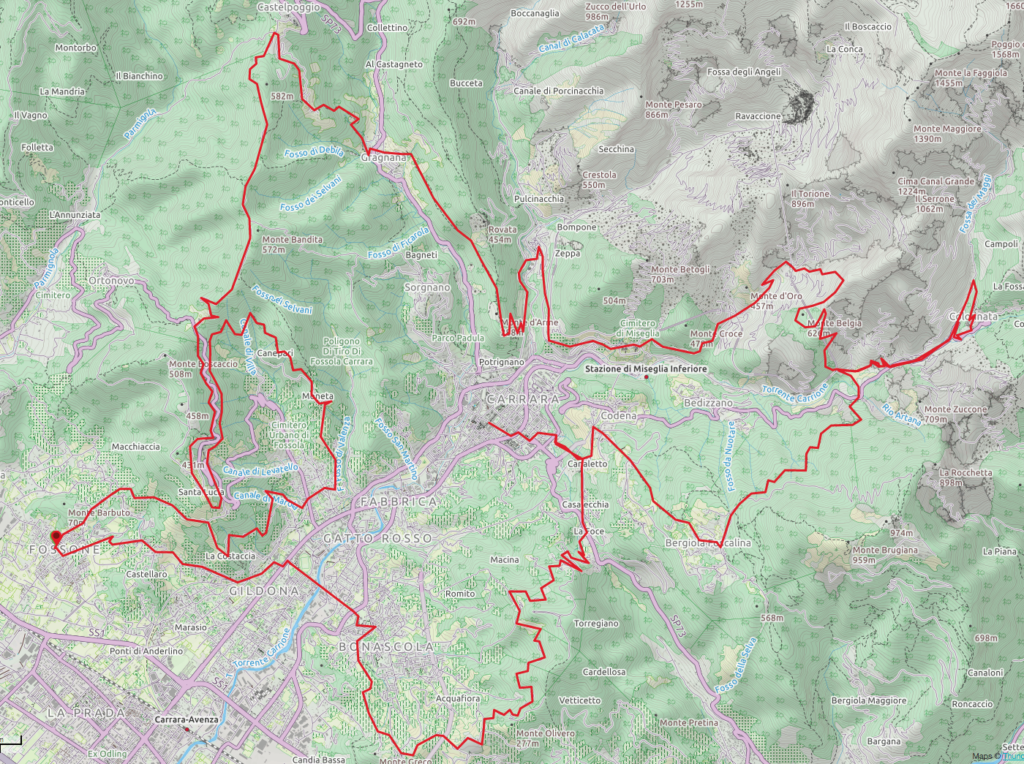 One of the most famous and scenic paths is the one that starts from Colonnata, winds through the chestnut woods and ends by the Kobra Mural.
It is a 13 meters high mural depicted on the side of a white marble face showing the face of Michelangelo's David. Up there, you dominate the entire valley, the sight stretches from the 5 Terre all the way to Livorno. Down below, you admire one of the biggest marble quarries in full activity. 
After the hike, nothing better than having a snack lunch in Colonnata with some local cold cts, cheese, vegetable tarts accompanied by local wines. Here you find more information about this guided tour.